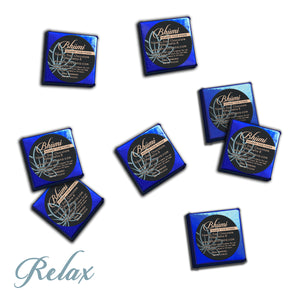 Bhumi Tiramisu Dark Chocolate Mini 40 mg Delta 8
Regular price
$3.50
$0.00
Unit price
per
Tiramisu dark chocolate, a fan favorite, has returned, and now contains 40mg of cannabis oil each bite. Our Delta-8 chocolate is a worry-buster and stress-melter that also provides a satisfying physical high.

Each mini at a dose of 40mg.
40mg delta 8 THC infused chocolate
Made with 100% federally legal hemp
Dark chocolate, with tiramisu flavoring
Grown, processed and batched in the USA


Some people find delta-8, an extract of hemp, to be rather intoxicating. While first using Delta-8 products, it is recommended to take it slowly and with caution. Each pill has 40mg of Delta-8 in it.
Melted Edibles and Policy for Melted Edibles:
We are not responsible for melted edibles such as gummies or chocolates. We make it our best effort to note products that do not tolerate heat well when shipped on the products page with the following statements: 

Please Note That This Product Is Non-Heat Resistant
If your gummies or chocolates have melted into a (delicious) singular blob, a quick remedy is to place them in the freezer for up to 1 hour. Once frozen, open the bag at the sides and cut into equal pieces. Precise dosing requires a gram scale.
We are not responsible for melted products when shipped.
WARNINGS
Keep out of reach of children. Do not use if safety seal is broken or missing. FDA has not evaluated this product for safety or efficacy. Use this product at your own risk. Do not drive or operate any machinery while using this product. Consult a physician before using this product. Do not use if pregnant or breastfeeding, or if you have any diagnosed or undiagnosed health conditions.
INSTRUCTIONS

Start with 1/4 piece. Do not increase the dose for 6 hours. Do not take more than 1 piece in 24 hours. Each piece contains 40mg of Delta-8.
Click Here for Lab reports.
---
Share this Product
---