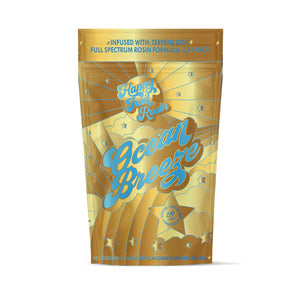 HAPPY FRUIT ROSIN FULL SPECTRUM D9 THC - Ocean Breeze- Sativa
Regular price
$29.99
$0.00
Unit price
per
The Happy Fruit Rosin gummies manufactured by Klutch contain genuine THC (Delta 9), which is derived from Live Rosin. Live Rosin is a concentrate that is naturally gathered from cannabis plants. Because it does not contain any solvents, the amount of terpenes that it contains is significantly higher. Live Rosin is extremely difficult to obtain. Avoid getting this confused with "Live Resin," as Live Rosin is a much rarer and exclusive substance.

Klutch has designed three distinct strains of Rosin Happy Fruit Gummies, each with a mouthwatering flavor and encased in a gummy that is suitable for vegans.
DESCRIPTION
Ocean Breeze. These energizing sativa gummies each have 25 milligrams of full spectrum rosin, 15 milligrams of D9-THC, and 5 milligrams of THCV. This daytime formulation complies with the requirements of the farm bill by containing less than 0.3% THC per gummy.
Ocean Breeze: Coconut Lemon Live Rosin Sativa Blend - Very Strong and Uplifting
What exactly is this "Live Rosin"?

Flash-freezing the freshly harvested cannabis immediately after harvest helps to preserve the live rosin. This ensures that the terpenes from the plant are present in the final product and makes the gummy act more quickly. Terpenes are the components of the cannabis plant that are responsible for its signature aromas and flavors.
---
Share this Product
---