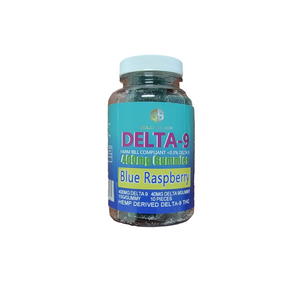 Gold & Silver 400mg Bottle D9 Gummies- 40mg per gummy
Regular price
$40.00
$0.00
Unit price
per
Gold & Silver hemp-derived THC gummies are bright and juicy. Infused with 40mg of THC in each gummy. Choose from different flavors. Take a bite into these gummies, sit back, relax, and enjoy the wave of relief. Each piece contains 40mg of hemp-derived Delta-9 THC.
Our THC gummies feature 100% hemp-derived Delta-9 THC that you know and love. 
So now you are wondering how this is legal. The answer is simple; according to the 2018 Farm Bill, CBD products are legally allowed to contain 0.3% Delta 9 THC by dry weight. These Delta-9 THC gummies are bigger than most (weighing over 15 grams each). We use the dry weight of the gummy to be able to deliver 40mg of legal, hemp-derived Delta 9 THC.
Please Note That This Product Is Non-Heat Resistant
If your gummies or chocolates have melted into a (delicious) singular blob, a quick remedy is to place them in the freezer for up to 1 hour. Once frozen, open the bag at the sides and cut into equal pieces. Precise dosing requires a gram scale.
We are not responsible for melted products when shipped.
*We strongly encourage to start with 1/2 gummy and wait up to an hour before ingesting any more. This product can be used at any time of the day, however, due to the THC present, we recommend that you find what dosage works for you in a comfortable environment and avoid operating heavy machinery. *
Ingredients: Hemp-Derived Delta 9 THC, Cane Sugar, Glucose, Corn Syrup, Pectin (Sucrose citrate), Coconut oil, Natural Flavors, Organic Food Coloring. 
∆-9 THC per Gummy: 40 mg
Total Gummies: 10
21+ Product
Click Here for Lab Results
These statements have not been evaluated by the Food and Drug administration. This product is not intended to diagnose, treat, cure or prevent any disease. All products contain less than 0.3% Δ9THC.
---
Share this Product
---