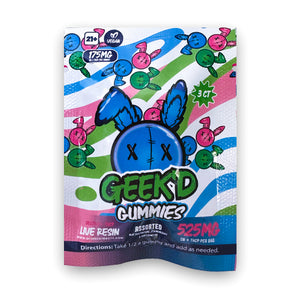 Geek'd Live Resin Gummies | 3 Count
Regular price
$6.99
$0.00
Unit price
per
Escape reality with Geek'd Gummies, where each neon-colored cube envelops your senses in a euphoric dreamscape. These tantalizing Delta 8 and THC-P infused edibles fuse juicy Blue Raspberry, sweet Strawberry, and refreshing Watermelon flavors with a calming, creative hemp-derived high. 
Product Description
3 Gummies Per Pack
175mg Per Gummy
525mg Total Per Bag
Blend of Delta 8 + THC-P + Live Resin
Assorted Flavors (Blue Raspberry, Strawberry, Watermelon)
Vegan
2018 Farm Bill Compliant
GEEK'D EXTRACTS – DELTA 8 + THCP GUMMIES 3500mg/20 Count Available

Here
Let these chewy, psychedelic treats take you on a flavorful journey through cannabis confectionery, with their perfectly balanced fruity flavors and mellow, functional buzz. Each Geek'd pack provides 3 cubes of edible bliss, bursting with fruit essences and infused with a special blend of Delta 8, THC-P and Live Resin terpenes for the ultimate trippy, tastebud-tingling experience.
The Blissful Synergy of Delta 8 and THC-P
When Delta 8 and THC-P join forces, a symphonic dance of cannabis effects ensues. Delta 8 takes the lead, spinning you into a gentle waltz of relaxation and contentment. Its uplifting vibes float through your mind like a soothing lullaby.
Then THC-P steps in, elevating the experience to new heights with its deep body high and dreamlike euphoria. The two cannabinoids move in cosmic synchronicity, Delta 8's mellow rhythm complimented by THC-P's transcendent melodies. Together they crescendo into a vibrant psychedelic experience that harmonizes full-body rejuvenation with a blissful expanded consciousness. This dynamic duet creates a journey you'll want to experience again and again, as Delta 8 and THC-P continue their cosmic cannabis choreography.
A Fruit Flavored Journey with Geek'd Live Resin Gummie

Take your tastebuds on a flavorful adventure with Geek'd Live Resin gummies. The juicy Blue Raspberry cubes offer a tangy tropical twist. Sink your teeth into the sweet succulence of the ripe, red Strawberry gummies. Refresh your senses with the cool watery notes of the Watermelon cubes.
With this colorful combination of fruit flavors, every Geek'd gummy provides a burst of candy-store delight. Let these neon treats transport you to a psychedelic paradise, where each bite saturates your senses with mouthwatering fruit essences.
From the zingy top notes of Blue Raspberry to the honeyed melody of Strawberry and the crisp aquatic chime of Watermelon, every Geek'd cube delivers an explosion of fruity flavors for your tasting pleasure.
Click Here for Lab Reports
---
Share this Product
---