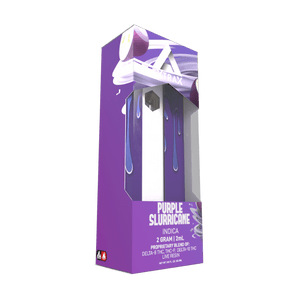 Extrax Purple Slurricane Disposable Live Resin
Regular price
$32.00
$0.00
Unit price
per
Our Purple Slurricane is a Hurricane of sweet grape flavors that is accompanied by sugary berries. This Indica strain lives in your body way after your last puff and can bring on those relaxing vibes.
This Purple Slurricane Disposable features a 2-gram disposable device infused with premium Live Resin along with a proprietary blend of THCP, Delta-8 THC, and Delta-10 THC.
This strain is perfect for those chill hangout evenings with friends or just a nice way to get a little much-needed rest and relaxation. This disposable device is draw-activated so all you need to do is open the box and enjoy.
Additional Product Information
Rechargeable
NOT Refillable
280 mAh
No Light when plugged into charger = fully charged
White light while charging = still charging
Red light = needs to be charged
White light while in use = working/activated
USB-C charger cable NOT included
Size: 2g | 2mL
Ingredients: Delta-8 THC, Delta-10 THC, THCP, Live Resin
** THIS DEVICE IS DISPOSABLE**
What is Delta-8 THC?
Delta-8 THC is an isomer of CBD, is derived from hemp and CBD, and is a psychoactive cannabinoid that packs several benefits. This unique cannabinoid is chemically different from its close relative, Delta-9 THC, differing in a few atomic bonds. Delta-8 occurs in small concentrations and is Hemp derived, making it Hemp compliant because it contains less than 0.3% of Delta-9 THC as required under the 2018 Farm Bill.
Does Delta-8 THC Get You High?
All of our Delta-8 THC is psychoactive, which means it has the ability to get you high. We don't recommend you operate heavy machinery as Delta-8 THC might impair your judgment. In addition, we strongly recommend not consuming Delta-8 THC while pregnant or breastfeeding. The onset effects of Delta-8 THC might be delayed for up to an hour and possibly even longer.
What is Live Resin?
Live Resin is the process of extracting cannabinoids from frozen Hemp plants. This results in more potent cannabinoids that include a better flavor, and are a lot closer to the original extract. Our Resin Series includes a unique blend of Hemp-derived cannabinoids that are extra flavorful due to the Live Resin extraction process.
What is THCP?
THCP first begins as a substance initially formed as cannabigerolic acid (CBGA), known as the "mother cannabinoid" from which cannabinoids derive from. By the same token, TCHPA (Tetrahydrocannabiphorol Acid) becomes THCP and on its own, it's 33 times stronger than regular THC, which means its effects on the body are amplified.
What is Delta-10 THC?
Delta-10 THC is a cannabinoid extract from the Hemp plant. It's very similar to Delta-8 THC in the way it's made; however, the difference between Delta-8 and Delta-10 is the chemistry behind the molecular structure of the compounds. The term "Delta" indicates the double bond in a compound's chemical structure. In the case of Delta-8 and Delta-10, the number that follows tells you where the double bond is located.
Click Here for Lab Results


---
Share this Product
---