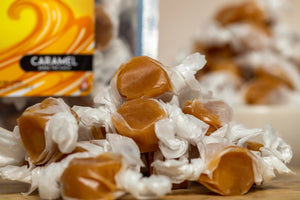 Delta-9 Live Rosin Taffy (Caramel) Hometown Hero
Regular price
$3.00
$0.00
Unit price
per
Enjoy the savory goodness of our soft, chewy caramels. Each piece has 20mg of THC from hemp, plus 2.5MG live rosin.
Delta-9 Live Rosin Caramel
Rich, chewy caramel with zero hemp taste. Relax and enjoy sweet, buttery caramel delighting your taste buds while delivering 20mg of THC and 2.5mg of live rosin in each tantalizing piece.
Product Details
1 caramel
20mg hemp-derived Delta-9 THC
2.5mg hybrid live rosin per piece
The most versatile taffy?
Delta-9 Live Rosin Caramels melt easily in the microwave, making them a perfect pairing for frozen desserts, brownies, your drink – or wherever your creative mind and hungry stomach take you.
Or, just unwrap, chew and enjoy as the blissful feeling takes hold.
20mg of Delta-9 THC per taffy, and legal from coast to coast.
Enjoy Delta-9 Live Rosin Caramels from start to finish. From the taste of buttery, vanilla caramel all the way through to a mellow euphoria and a blissful smile.
Derived from hemp and below 0.3% dry weight, the THC in this taffy is legal whether you're on the east coast, west coast, gulf coast or no coast at all. In other words, all 50 states.
There are at least 113 known compounds found in cannabis. However, Delta-9 THC is one of the most well-known and well-loved. Through live rosin, we're able to preserve a hybrid terpene profile. When paired with Delta-9 from hemp, it can promote indica and sativa properties. However, effects may vary.
Product Details
1 caramel
20mg hemp-derived Delta-9 THC
2.5mg hybrid live rosin per piece
---
Share this Product
---