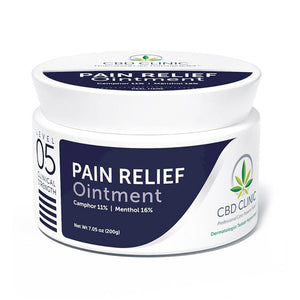 CBD Clinic™ Clinical Strength: Level 5 – Pain Relief Ointment
Regular price
$90.00
$0.00
Unit price
per
CBD Clinic™ Clinical Strength: Level 5 – Pain Relief Ointment
Based on 15 years of research, development, and testing of organically derived treatments, the CBD CLINIC CLINICAL STRENGTH Pain Relief Series was established to set the gold standard for pain relief.
The Targeted 5 Level Pain Management System is made with the best active (API) and organically derived components on the market, including camphor and menthol. Based on 15 years of research, development, and testing of organically derived treatments, the naturally derived CBD Clinic Clinical Strength Pain Relief Ointment Series was established to set the gold standard for pain relief of muscle and joint pain.
Product Info
Maximum clinical strength formula
Fast-acting, deep penetrating pain relief
Made with 16% menthol and 11% camphor
Dermatologist tested-hypoallergenic
400mg CBD content per 44g jar
With escalating quantities of active ingredients and chemicals, the innovative 5-level pain management system will help you address incremental levels of pain directly at the cause of suffering. The primary formulae release menthol and camphor terpenes, as well as other plant extracts, to improve the cooling impact. Furthermore, these exclusive CBD products contain natural emollients that help to lock in the active components while also moisturizing the skin.
CBD Clinic ointments, creams, massage oils, and pain treatment sticks are created in a federally audited facility to ensure the highest industry standards. You may be confident that each batch is thoroughly tested by third-party labs to assure safety, accuracy, and consistency from batch to batch.
The first and only family of topical medications made with FDA-approved pain-relieving ingredients and CBD, a THC-free cannabinoid-rich hemp extract.
What kinds of minor pain and discomfort might CBD Clinic products treat?
Back and Neck Pain Muscle Pain
Leg and Knee Ache
Joint Ache
Arm and shoulder ache
Foot Ache
Sprains
Torso and Hip Pain
Pain from Arthritis
Hand and Wrist Ache
Bruises
What differentiates CBD Clinic level products?
Expert formulations using the best natural substances on the market, including the best active pharmaceutical pain-relieving compounds, menthol, camphor and is CBD rich.
There are several formulas for various sorts of modest, transitory pain.
Each batch is evaluated by third-party labs to ensure quality, safety, and efficacy.
Where to buy CBD Clinic products near me?
CBD Clinic products are available online and in-store for purchase here at Triangle Hemp Wellness. We carry some of the best high-quality hemp extract pain relief products that help aid in the treatment of muscle aches and joint pain. 
Enjoy our fast shipping and have the CBD Clinic products delivered right to your door. Free shipping over $80.

Size: 44g
Benefits: Temporarily relieves aches and pains of muscles & joints associated with backache, arthritis, strains, bruises and sprains.
Directions: Apply to affected area up to 4 times daily. Do not use on wounds or damaged skin. Avoid contact with eyes or mucous membranes.
Key Ingredients: Beeswax, camphor, clove oil, cotton seed oil, eucalyptus oil, hemp extract, jojoba oil, menthol, peppermint oil, tea tree oil.
Cannabinoid Profile: THC-free, CBD rich, broad-spectrum distillate from the Cannabis sativa L. plant.
Click Here for Lab Reports 
---
Share this Product
---