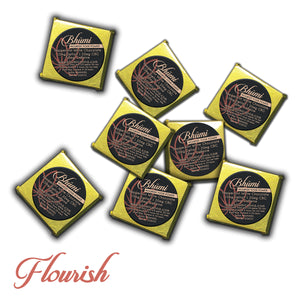 Bhumi Peppermint White Chocolate Mini (10mg D9 + 20mg CBG + 50mg Caffeine)
Regular price
$3.50
$0.00
Unit price
per
Try one of Bhumi's peppermint white chocolates instead of that energy drink. On this one, we kind of lost it. Caffeine, CBG, and Delta-9—three powerful stimulants—in one convenient package—will help you get things done in an efficient and productive manner.

Each of the eight miniature chocolates in this set has 10 milligrams of Delta-9, 20 milligrams of CBG, and 50 milligrams of caffeine.

Some people may experience intoxication after using Delta-9, an extract of hemp. Using Delta-9 products requires a cautious and gradual introduction. You'll get about 10mg of Delta-9, 20mg of CBG, and 50mg of caffeine from a single chocolate square. First, take half a piece and wait 4 hours before increasing or altering your dosage.
INSTRUCTIONS
Start with 1/2 a piece. Do not take more than 1 piece in 24 hours. Each piece 
contains 10mg Delta-9, 20mg CBG, and 50mg Caffeine.
Melted Edibles and Policy for Melted Edibles:
We are not responsible for melted edibles such as gummies or chocolates. We make it our best effort to note products that do not tolerate heat well when shipped on the products page with the following statements: 

Please Note That This Product Is Non-Heat Resistant
If your gummies or chocolates have melted into a (delicious) singular blob, a quick remedy is to place them in the freezer for up to 1 hour. Once frozen, open the bag at the sides and cut into equal pieces. Precise dosing requires a gram scale.
We are not responsible for melted products when shipped.
WARNINGS
Keep out of reach of children. Do not use if safety seal is broken or missing. FDA has not evaluated this product for safety or efficacy. Do not drive or operate any machinery while using this product. Consult a physician before using this product. Do not use if pregnant or breastfeeding, or if you have any diagnosed or undiagnosed health conditions.
Click Here for Lab Reports 
---
Share this Product
---