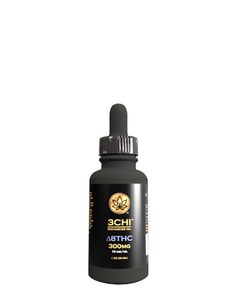 3Chi Delta 8 THC Tincture 1200 MG
Regular price
$39.99
$0.00
Unit price
per
3Chi Delta 8 THC tincture consists of a broad-spectrum hemp extract. It contains Delta 8 other cannabinoids, and terpenes to deliver an exceptional entourage effect.
Coming in MCT as the carrier oil.  The terpenes give 3Chi Delta 8 THC tincture a plant taste, so be aware of that. NOTE: THIS PRODUCT IS NOT FOR USE IN A VAPE!
Description
3Chi Delta 8 THC tincture is designed to deliver benefits of THC without causing any psychoactive effects.
Delta 8 THC Tincture Product Description
Amount: 1 oz / 30 ml
Container: Black glass tincture bottle with child-resistant 1ml dropper with metered pipette
Ingredients: Hemp Extract, Natural Terpene Blend, Medium Chain Triglycerides, Vitamin E
Important Product Notes
Delta 8 THC tincture can be moderately intoxicating to some. Do not drive or operate any machinery while using this product. Consult a doctor before using this product
While we do not have sufficient data to say anything definitively, it is thought that the delta 8 THC metabolites will trigger many drug tests looking for delta 9 THC. As a precaution, you should not take this product if you need to pass a drug test.
Delta 8 THC Tincture Extract Description
Type: Broad spectrum ∆8 THC oil with natural terpenes
Delta 8 THC Content:

 

 600 mg (20 mg/ml), or 1200 mg (40 mg/ml)
Extraction Material: Hemp
Original Extraction Method: Ethanol
∆9THC Content: None detected
Plant-Derived Terpenes: Yes
Directions 
Measure the desired amount of Delta 8 THC tincture using the metered dropper and use it as desired. Consult a physician before using this product. Must be at least 21 years or older to use unless allowed at a younger age due to the laws of your state or territory.
Refrigeration is not necessary but is encouraged as it will extend the life of the oil. Do not store above room temperature or in a humid environment. Do not touch the dropper to skin, mouth, or any surface between or during use to help prevent contamination.
Click Here for Lab Reports 
---
Share this Product
---