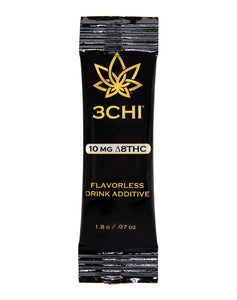 3CHI Delta 8 Drink Additive - Flavorless
Regular price
$2.95
$0.00
Unit price
per
About Flavorless 3 CHI Drink Additive
This drink technology is responsible for multiple cannabis awards!
3 CHI unflavored Delta 8 Drink Enhancer can be added to any drink and contains 10mg of a patented, extremely fast-acting powdered delta 8 THC.
It can give an edible onset in under 5 minutes for some people with a gentle rise in effects that typically peaks around 30-60 minutes yet can still last 4 hours or more for some. 
Delta 8 Flavorless Drink Additive Product Description
Serving Size:

 

1 packet
Total Delta 8 Content:

 

10mg per packet 
Ingredients:

 

Proprietary blend (mannitol, agar agar, citric acid, microcrystalline cellulose, adipic acid, maize starch, sodium citrate, magnesium oxide), hemp extract polymorph delta 8 THC, potassium sorbate, sodium benzoate
Delta 8 Flavorless Drink Additive Effects
Important Product Notes
DO NOT USE THIS PRODUCT IN ANY MANNER NOT RECOMMENDED BY A DOCTOR. DO NOT USE THIS PRODUCT WITH ALCOHOL.
This Delta 8 Flavorless Drink Additive may affect blood pressure, heart rate, and/or intraocular pressure in some people. If you have any known or unknown heart, blood pressure, eye, eye pressure, or similar/related issues, do not use this product unless recommended by a doctor.
Δ8THC will likely cause you to fail a drug test. Do not use this product if you need to pass a drug test.
This Delta 8 Flavorless Drink Additive can be intoxicating to some people. Do not drive or operate any machinery while using this product. Consult a doctor before using this product.
Our Delta 8 Flavorless Drink Additive is legal according to federal law and many state laws. Our Δ8THC extract is 100% derived from hemp and does not contain more than 0.3% ∆9THC. 3Chi is not responsible for knowing whether this product is legal in your state or territory and you assume full responsibility for all liabilities pertaining to your purchase.
Click Here for Lab Results
---
Share this Product
---