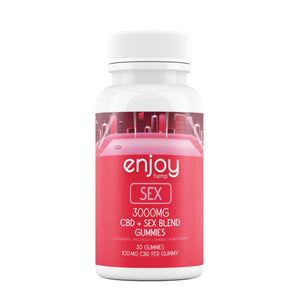 Sex Gummies - Full Spectrum CBD + Maca Root + Schisandra + Damiana + Muira Puama-Enjoy Hemp
Regular price
$44.99
$0.00
Unit price
per
Introducing the ultimate product to take your sexual wellness to new heights: Sex Gummies! These gummies are packed with a powerful blend of natural ingredients that are carefully crafted to ignite your passion and pleasure.
Enjoy Hemp's Sex Gummies contain:
Either 50 or 100 milligrams of Full-Spectrum CBD

50 mg of Maca Root,

50 mg of Schisandra,

50 mg of Damiana, and

50 mg of Muira Puama per gummy.
How it works:
First up, we have Full Spectrum CBD, a non-psychoactive compound derived from the hemp plant that has been known to reduce anxiety and increase relaxation - key factors for a satisfying sexual experience. Alongside this, we have Maca Root, a nutrient-rich plant that has been used for centuries to enhance libido and fertility.
But we're not done yet! Schisandra, a traditional Chinese herb, is also included in this formula. Known for its adaptogenic properties, Schisandra can help your body handle stress and fatigue, leaving you feeling more energized and ready to go.
And let's not forget about Damiana and Muira Puama, two powerful aphrodisiacs that have been used for centuries to enhance sexual desire and performance. These herbs work together to stimulate blood flow and increase sensitivity, leading to a more intense and pleasurable experience.
These gummies are perfect for anyone looking to enhance their sexual wellness in a natural and safe way. So why not give Sex Gummies a try? Your body - and your partner - will thank you for it!
Click here for Lab Results
---
Share this Product
---