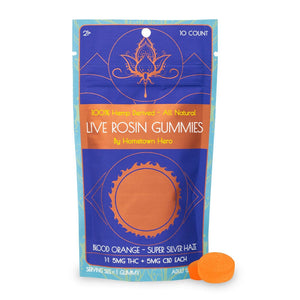 Delta-9 5mg Live Rosin Gummies + CBD (Blood Orange)
Regular price
$17.00
Sale price
$20.00
Unit price
per
Introducing Delta-9 5mg Live Rosin Gummies - Experience a Burst of Zesty Delight!
Get ready to tantalize your taste buds and elevate your CBD experience with our Delta-9 5mg Live Rosin Gummies in CBD Blood Orange flavor! These delightful gummies are bursting with zesty goodness that will make your senses dance with joy.
Product Description
1:1 5MGTHC+5MG CBD EACH
10 COUNT
Imagine sinking your teeth into a gummy that combines the uplifting effects of Delta-9 THC with the soothing benefits of CBD. Each bite will transport you to a state of pure bliss, where relaxation and exhilaration intertwine.
Our Live Rosin Gummies are carefully crafted using the finest ingredients and infused with premium CBD and Delta-9 THC. The result? A mouthwatering explosion of juicy blood orange flavor that will leave you craving more.
Not only do these gummies taste amazing, but they also pack a punch. With 5mg of Delta-9 THC per gummy, they offer just the right amount of potency to enhance your experience and create a sense of euphoria that's hard to resist.
Whether you're seeking a moment of fun, relaxation, or a boost of creativity, our Delta-9 5mg Live Rosin Gummies are your ticket to an unforgettable journey. They're perfect for unwinding after a long day, socializing with friends, or simply treating yourself to an adventure of pure delight.
Ready to experience the magic of Delta-9 THC and CBD in a zesty gummy form? Don't wait any longer! Grab a bottle of our Delta-9 5mg Live Rosin Gummies in CBD Blood Orange flavor today and let the good times roll. Get ready to unlock a world of fun and excitement that will leave you smiling from ear to ear.
---
Share this Product
---